The warm, concealing safety of thick hosiery can seem very appealing on an icy morning. Your legs are sandpaper-rough and a shade of white that means that, like a comet, you cannot look directly at them. But it doesn't matter, because all you need to do is chuck on your tights, add some 'on-trend' boots and you can cut quite a dash at the soft play.
Let us not be complacent. Last year, it suddenly turned tropical in April. So I'm getting my pasty limbs out now and giving them a once over. Otherwise, in a few weeks, my opaques will look itchy, and someone at the ball pool will have tanned calves and a gorgeous little pedicure. And I will feel very, very sad.
It won't be news to you that before you do anything, you need to slough off a layer. My current exfoliating favourite is the Body Scrub (£25) from the new Conran Bath and Body range.
It's a curious thing, a bit like wet, bubbly sugar – but invigorating without being grainy, and gorgeously clean scented.
Now it's time to send in the hydration cavalry. "Take some time to make the most of the colder, darker evenings as spring approaches to get your skin healthy", Aromatherapy Associates founder, Geraldine Howard, advises us. "Serums are fantastic for a lighter weight layer of moisture, followed by a layer of oil or moisturiser."  She's right – serums aren't just for your face: try Aromatherapy Associates Enrich Body Serum (£24.50) to super charge your body moisturiser.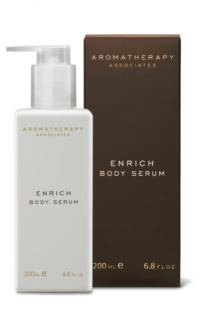 Speaking of which, 'milks', 'lotions' and 'fluids' won't cut it for post-winter scaliness – so invest in a heavyweight like Payot's Nutrica Intense Body Nourishing Cream (£30.50, 0207 494 6220 for stockists), which melts in and delivers skin so soft it doesn't feel like yours. Or mine.
Finally, inject some colour into your anaemic limbs with a subtle 'moisturiser with a tint' like Elemental Herbology's Sun Kiss (£25.00) – one of the few fake tanning products that a) doesn't leave me looking like a Big Brother contestant and b) doesn't make me smell of chicken.
Nearly done. Blue toenails are a bit try-hard for April. Ease yourself in gently with Mavala's Mava-White (£9.50), which gives you groomed, healthy nails that might just be natural – who knows?