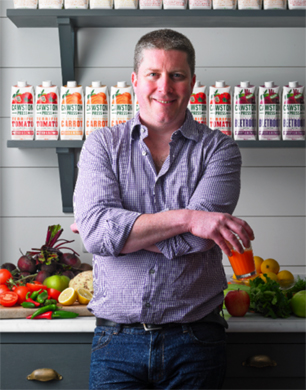 We chat to the master blender at Cawston Press, Micah Carr-Hill to find out the secrets behind our favourite soft-drinks brand and how he concocts these masterful blends…
You are the master blender at Cawston Press. What inspires you to create such innovative blends?
I spend most of my spare time cooking, eating, drinking, shopping for ingredients and reading about food so I reckon that my inspiration comes from just being completely immersed in food and drink all the time.
What impact do sourcing fresh ingredients make to the flavour of the drinks?
The old adage that you can't make good tasting food from poor ingredients has been much repeated and is fundamentally true. Find the best ingredients you can afford and the rest is relatively simple.
You trained as a food scientist and also worked in marketing, what is your favourite part of the process when developing a new product?
The best part is still working with the ingredients and coming up with a flavoursome combination. However, being part of the marketing team affords me some influence as to how the final drinks will look and be communicated to the consumer. Seeing it on-shelf for the first time after launch always gives me a buzz, too.
Can you tell our readers what an average day is like in the life of Micah Carr-Hill
Up around 6:30 and help get the children breakfasted and off to school. I work mainly from home so the rest of the day is spent between my office, the kitchen, the shops (for ingredients) and to Cawston offices when I need to show off my latest inventions. The day is always smattered with various food and drink based non-work activities such as making sourdough, making stock, making jars of preserves (marmalade, my own version of Tabasco), making vin d'orange, etc. Unless I'm out for a meeting, I'll always cook something agreeable for lunch, too. After the necessary child admin post school, I'll cook a bird or some other meaty goodness for supper and open a bottle of something suitably fine for me and my wife.
To work in such a niche field, do you think you have to have a talent for taste or is this something one can develop?
It's a bit of both, I reckon. I started my career in the wine industry and that's where I learnt how to taste by analysing what was going on in the glass using my senses. However, I soon realised I had a naturally heightened sense of "taste" (which is actually one's olfactory sense for smells or flavour) which helps a great deal. The other thing that's important is tasting as many different foods and drinks as possible to acquire a memory bank of flavours.
Drinks often have trends – lately we've seen a huge trend in elderflower. Can you tell our readers what trends we will see emerging?
Presently, the big general trend in drinks is bitter, which can be seen with the rise of various Indian tonic waters, hoppy beers, the popularity of drinks such as Aperol, the increased use of bitters in cocktails. Next? More use of herbs and spices in drinks?
When you're not busy working, what do you like to do to unwind?
Eat, drink, cook, cycle, read, a smattering of gardening, more eating, sleeping.
What sets Cawston Press apart from other soft drinks brands?
The use of high quality ingredients, such as plenty of not-from-concentrate fruit juice (we only ever use pressed juices) and no additives. We've also got some unusual flavour combinations such as those found in our new range of vegetable blends. 'Radiant Roots', for example, features a blend of apple juice with carrot juice, beetroot juice, lemon and ginger – mixed with a little water for a deliciously refreshing drink.
What would your last meal be?
Some freshly laid eggs, fried, with obscene quantities of white truffle shaved on top; myriad perfectly roasted meats with accompanying juices and usual sides; cheeses: fresh lemony goat's, Bitto, Epoisses, Stichelton; and, of course, the finest wines known to humanity. Here, and now.
What first inspired you to enter into the food industry?
From an early age I was rather discerning about what (edible things) I put in my mouth. It seemed to make sense to make a career out of it.
What chefs do you most admire at the moment?
Mikael Jonsson (Hedone). He starts with great ingredients and uses incredibly accomplished techniques to give seriously good cooking.
What are your top favourite restaurants?
Hedone. Anchor & Hope. Needoo Grill (specifically for their dry meat).
What's your motto? 
Can you pass me the salt?