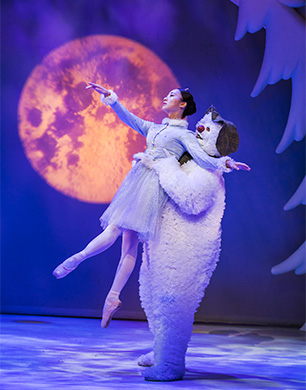 Walking in to the auditorium of the Peacock Theatre to see The Snowman has officially kicked off the Christmas spirit in our family.
This sensational show based on the classic picture book by Raymond Briggs is an enchanting masterpiece on stage. We absolutely loved every minute and were entranced by the music, set and characters which brought this much-loved story to life.
From the moment the curtain rose we were transported to a winter wonderland with sweeping white trees framing the stage full of beautiful colours and costumes. We see the little boy in his cosy home with Mum and Dad, waking up to discover that it is snowing.  Beautiful lighting creates this falling effect and really captures that excitement of the first glimpse of snow.
Cleverly rolling snowball after snowball, The Boy then creates the star of the show; The Snowman.
As woolly jumpers, hats and scarves adorn the characters who sing Christmas carols we wait in anticipation for The Snowman to come to life. When he starts to move, it is truly mesmerising. My daughter was fully immersed in this scene. She actually whispered in astonishment "Can you believe it?" The magic of this moment is priceless.
We see The Snowman move in fluid motion to create a light and fluffy feeling as The Boy takes him on a grand tour of his house and all the mod-cons which are alien to a snowman. These little moments between the boy and his new frosty friend are very amusing and filled with slapstick humour.  My daughter was chuckling away at their adventures together. A beautiful ballerina, stomping soldier and cuddly teddy come to life too, which is spellbinding.
The flying scene lives up to its expectation and really does manage to capture the thrill of The Snowman and young boy flying through the air, accompanied by the famous song Walking in the Air. It is another 'wow' moment when a rare silence blankets the child-filled auditorium followed by squeals of delight.
With all of this happening in the first half, I did wonder whether the show had peaked too early. What more could we see that would keep these young eyes around us peeled?  But the second half didn't disappoint. With dancing fruit, beautiful reindeers, rabbits, foxes and the appearance of the big man himself- Father Christmas, my daughter was enthralled. Another flying scene and more wonderful choreography by Robert North, the stage was filled with magical characters and even more snowmen – I needn't have worried.
We were taken on an unforgettable adventure from start to finish, ending in a spectacular release of snow in to the audience. My daughter jumped up from her seat and twirled around as the snow foam fell around her. The Snowman is a truly memorable, Christmas experience not to be missed.
LISTINGS INFORMATION
Birmingham Repertory Theatre
The Snowman™
Peacock Theatre, WC2A 2HT
Saturday 20 November – Sunday 2 January 2022
Performances: 11am, 2.30pm & 7pm. See www.sadlerswells.com for full schedule
Tickets: £18 – £55
Family Tickets available
Ticket Office: 020 7863 8222 or peacocktheatre.com