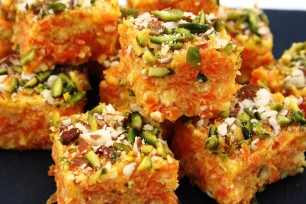 Seeing as Christmas is well and truly upon us, this recipe from chef Maunika Gowardhan is the perfect canapé style pud to serve at your party this year.
'Gajar Barfi' as it's known in India, is a make-ahead carrot fudge. Stewed carrots in butter with milky goodness; the end result yields sticky, gooey, fudgy, mini carrot morsels with the warmth of cardamom and crunch from the almond pistachio mix. Every bite of this decadent barfi is a sheer delight and will gain you extra brownie points from your guests for serving something different at your Christmas party this year.
Cooking Time: 30 mins plus 2-3 hours refrigeration time.
What You'll Need:
180mls double cream
180gms milk powder
80gms unsalted butter
750gms carrots coarsely grated
400gms condensed milk
1 tsp ground cardamom powder
20gms almond roughly chopped
20gms pistachios roughly chopped
What To Do:
Line a baking dish with some oil or parchment paper. In a bowl mix together the double cream and milk powder to a dough-like consistency and set aside.
Heat the butter in a deep non stick sauce pan. Add the grated carrots and cook on a medium heat for 20 mins stirring frequently. Now add the condensed milk and stir well. It might look milky but let it fry over a medium heat until the moisture evaporates and you're left with a sticky mix. This should take 10-12minutes.
At this stage add the dough mix, with the help of the stirring spoon break it up and stir well to prevent it sticking to the bottom of the pan. Keep stirring until there are no lumps. Tip in the cardamom powder and mix well. Turn the heat on a low and let the barfi mix cook for a further couple of minutes. Turn the heat off and tip in the mix in the lined baking dish.
Use the back of the spoon to flatten it out evenly. Top with the almonds and pistachios. Cool & refrigerate to set for 2-3hrs or overnight.
Once they are set, the barfi can be served warm or cold. Cut into bite size squares and serve.
 For more recipe ideas, tips and information about Maunika Gowardhan's cookery classes & demos make sure to check www.cookinacurry.co.uk also keep a look out at her Twitter page @cookinacurry