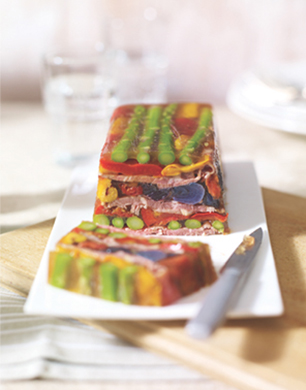 Impress your friends at your next dinner party with this colourful terrine; little do they know it only took you twenty minutes.
This beautiful dish is delicious served with a crisp salad and a tangy vinaigrette dressing.
Serves: 4
Preparation time: 20minutes
What you'll need: 
300g shredded cooked Scotch Beef
6 sheets leaf gelatine
415g can beef consommé
1 bunch asparagus, trimmed and lightly cooked till just tender
4 tbsp capers
4 tbsp chopped chives
2 x 180g Italian Chargrilled Vegetable Antipasti, drained, or 360g leftover roast vegetables
What to do:
Place the gelatine in a small bowl and cover with cold water, leave for 5 minutes until softened. Meanwhile, heat the consommé in a small pan but do not boil.
Squeeze the excess water out of the gelatine and add to the pan, off the heat, stirring until dissolved then leave to cool.
Line a 900g loaf tin with a double layer of cling film (dampening between layers will help you to smooth it out) leaving the edges overhanging.
Place half of the asparagus in a single layer at the bottom of the tin.
Mix together the beef, capers and chives and place a layer over the asparagus. Top with a layer of the vegetables and continue to make six layers in total.
Carefully pour over the cooled consommé, making sure the final layer of vegetables is completely covered. Carefully fold over the clingfilm then chill overnight. Turnout the terrine and cut with a serrated knife to serve.
Recipe By Quality Meat Scotland