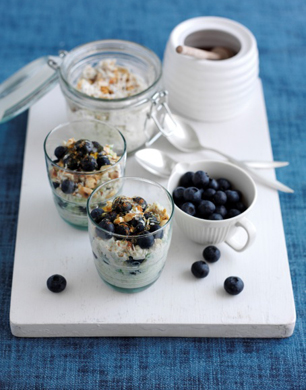 A healthy yet delicious breakfast. Top this classic bicher muesli recipe with blueberries, grated apple and honey. A great way to start your day.
If you have a dairy allergy simply use Soya milk or yoghurt instead.
Serves 6:
Preparation time: 10 minutes
What You'll Need: 
500g (1lb 2oz) tub Greek yogurt
200g (7oz) rolled oats
40g (11/2oz) wheat germ
40g (11/2oz) desiccated coconut
50g (2oz) hazelnuts, toasted and roughly chopped
200ml (7fl oz) pressed (cloudy) apple juice
To serve per portion
½ Granny Smith apple, cored but not peeled, coarsely grated
50g (2oz) Chilean blueberries
1 tsp runny honey
Little ground cinnamon
Few extra chopped hazelnuts, optional
What To Do: 
Mix the yogurt, oats and wheat germ in a bowl then stir in the coconut, toasted hazelnuts and apple juice. Transfer to a plastic container, clip on the lid and chill overnight in the fridge.
When ready to serve, stir in grated apple and a few blueberries then spoon into dishes, top with extra blueberries, a drizzle of honey, a sprinkle of ground cinnamon and a few extra nuts, if liked. The remaining soaked muesli will keep in the fridge for 2-3 days, just add a little apple juice if needed, as the oats will continue to swell.
Recipe from Seasonalberries.co.uk