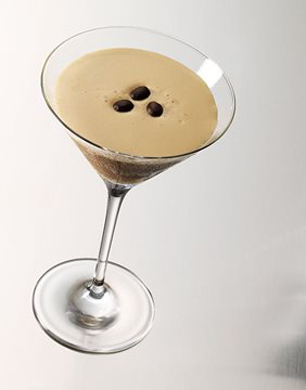 The classic Espresso Martini gains extra intensity from the rich, dark Caribbean flavour of Captain Morgan rum. With fresh-brewed espresso and coffee liqueur, it's deliciously indulgent.
What You'll Need:
25ml Captain Morgan® Original Rum

25ml 

Coffee Liqueur

25ml 

Sugar Syrup

25ml 

Espresso

3piece(s) 

Coffee Bean
What To Do:
Fill a cocktail shaker with ice cubes.
Fill a cocktail shaker with ice cubes.
Add Captain Morgan Original Rum, coffee liqueur, sugar syrup and espresso.
Using a jigger, measure 25ml Captain Morgan Original Rum, 25ml coffee liqueur, 25ml sugar syrup and 25ml espresso into the shaker.
Shake until cold.
Shake the mixture vigorously in the cocktail shaker until the surface of the shaker feels chilled.
Strain into a martini glass.
Strain the mixture into a chilled martini glass using a cocktail strainer.
Garnish with coffee beans.
Add 3 coffee beans to the top of the drink to garnish.