StyleNest have teamed up with organic skincare specialists for sensitive skin, Pai to bring you the latest top tips for solving your sensitive skin.
Delicate or sensitive skin? Simply follow Pai's three step guide to help you resolve your sensitive skincare anxieties and worries. Identify your triggers and avoid them. It's important to get to know your skin, what it likes and what it doesn't like. Identifying triggers is not as difficult as it may seem, just keep a list of products your skin reacts to. Once you have a handful, scan the ingredients list to see which they have in common & try and avoid these in the future. Remember, diet, stress and hormone imbalances can all affect sensitive skin, so always take them into account if your skin is causing you stress.
 Step 1. Correct your cleansing regime
If you are suffering with problem skin the first thing to correct is your cleansing regime. The secret to clear, even and healthy skin is to remove dirt and impurities without stripping your skin's natural oils. The detergent and alcohol-free formula of Pai Camellia & Rose Gentle Hydrating Cleanser protects skin as it purifies, nourishing and softening with high levels of Vitamins A, B, C & E as it goes.
Step 2. Essential Exfoliation
Exfoliation should form an essential part of all skincare regimes, however until now those with sensitive skin have tended to avoid exfoliators for fear of irritation. Pai Kukui & Jojoba Bead Skin Brightening Exfoliator solves this by using perfectly cylindrical wax beads, which roll over the skin rather than scratch the surface. Protective Kukui oil deeply conditions newly exposed cells, to leave even the most sensitive skin smooth, soft and radiant.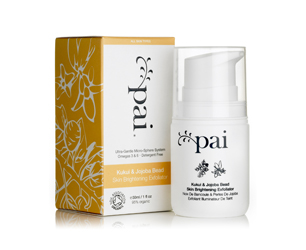 Step 3. Match your moisturiser to your skin type
Though most know the difference regular moisturising can make, few people recognise the importance of matching your moisturiser to your skin type. Pai understand that not all sensitive skin is dry. Irritation can effect all skin types, of all ages, and that's why Pai have a range of gentle moisturisers to suit. Pai's Geranium & Thistle Combination Cream is the lightest moisturiser in the Pai range, and absorbs instantly to decongest and rebalance combination or clogged skin.
For more information visit www.paiskincare.com.