StyleNest have teamed up with Clinique Global Colour Artist, Jenna Menard to bring you the ultimate guide to foundation.
Whether you're a powder person or foundation fanatic, choosing the right foundation can be a daunting and confusing experience. Formulas, shades, textures and consistencies are overwhelming but with Jenna's help, finding the perfect foundation isn't so hard.
Step 1. Choosing The Formula
First decide what you want from your foundation. Since everyone's skin is different – it's important to pick a texture and consistency that works for your specific needs. For example, if you have very dry skin you might want to consider a cream or liquid foundation and avoid powder formulas altogether. If you are looking to simply even out your complexion without too much coverage, you want to avoid full coverage foundations and gravitate towards a tinted moisturiser. If you have slight redness in certain areas, you can focus on masking just the redness rather than covering everything with concealer. To achieve the ultimate polished look, slowly build to achieve the desired coverage.
Step 2. Choosing The Shade
Selecting your shade is the most important factor when selecting your foundation – no pressure. Make sure you take a close look at the shade on your own and in different lighting situations. Pay attention to the colour of your face in relationship to your body – specifically the shoulders and chest – the areas closest to the face. Also, go into the bright daylight, as it's the best light to decide whether the shade, texture and finish provide the complexion you're looking for.
Step 3. What To Consider For Mature Skin
When working around fine lines and wrinkles, application is vital. You should avoid using extra product close to fine lines as makeup can settle within them, highlighting them even more. After applying foundation, take a dry makeup brush and blend over these areas to remove the excess product and to keep it from settling. I encourage lightly powdering the skin to help set foundation and keep it stable. No matter your age there is a foundation that is best suited for you at this time in your life.
Step 4. Consider The Weather
Your skin tone will most likely be different between summer and winter. Having two shades of foundation can help you adjust between the seasons or alternatively have a standard base shade and use something to darken your winter shade during the summertime. Jenna recommends blending a product like Uplighting Liquid Illuminator with your winter foundation shade to transition you into the summer.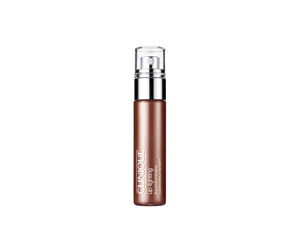 Step 5. Foundations With SPF
Foundations with SPF will help protect you from the sun on a daily basis, therefore working to prevent dark spots, fine lines ad wrinkles by overall UV damage from occurring in the first place. Just as treatment foundations should not replace your normal treatment products, foundations with SPF should not replace your normal sun block routine.
Frequently Asked Questions
Is loose or pressed powder best after foundation?
Applying powder after foundation will help your foundation stay longer and provide an added protection against shine. Whether using pressed or loose, Jenna suggests using a brush so you are able to work it into the skin as best as possible rather than have it lying on top. The Bronzer/Blender Brush allows you to powder the whole face quickly and evenly.
After foundation application, apply a dab of highlighter to the highest part of the cheekbones, the bow of the lip and the bridge of the nose. Uplighting Liquid Illuminator in Natural works well on many skin tones.
Take care not too use too much product too soon. It is essential to gradually build up to the coverage that is needed. Start with minimal product and then work your way up.
Be sure to blend the product into your skin to the point where it becomes your skin, rather than sits on top.
 Use disposable sponges or be sure to clean your brushes with cleaner regularly.
Clinique's foundation line up 

offers a complimentary, custom-fit foundation fitting at every counter.