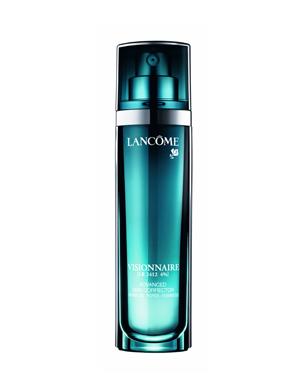 Lancome introduce new Visionnaire a revolutionary serum to your skincare regime.
Lancome unveil new Visionnaire (LR 2412) Advanced Skin Corrector for wrinkles, pores and evenness.
Visionnaire features LR 2412 which is an innovative multi-tasking beauty molecule which makes your skin visibly appear more beautiful and feel truly stunning too. Visionnaire (LR 2412) has multiple effects which instantly transforms the skin whilst refining the texture, reducing wrinkles tightening pores and reducing pigment irregularities.
Suitable to use on all skin types, the Visionnaire (LR 2412) serum in a unique molecule, specifically designed for a multi-tasking 'beauty' effect where its multiple actions helps different compartments of the skin to help improve both the texture and appearance.
The formula melts into your skin and instantly penetrates, leaving no sticky residue or tacky finish. Your skin will feel velvety soft, smooth and instantly transformed and revived. Safe to use around the eye area and even on the eye contour, Visionnaire (LR 2412) can be worn throughout the year in summer and winter.
The 12 year research program consisted of extensive studies to achieve a skincare product completely ahead of its time. Designed to penetrate all layers of the epidermis, LR2412 was discovered by looking at 20 different spatial versions of jasmonic acid, the signaling molecule.
Visionnaire (LR 2412) is priced at £58 and will be available from September 1.
For more information and to buy online visit www.lancome.co.uk.