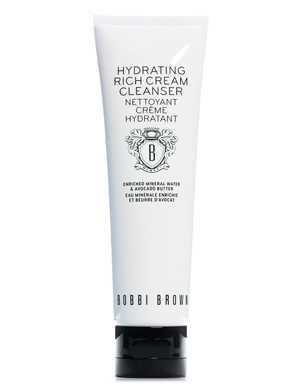 Bobbi Brown launch new Hydrating Rich Cream Cleanser, the latest addition to the Hydrating Skincare Collection.
Get cleaner, fresher and healthier looking skin with Bobbi Brown's specially formulated Rich Cream Cleanser (£19) which cleanses the skin without stripping or drying.
Now you can achieve a radiant natural glow with minimal effort and wash away the impurities of the summer. The Hydrating Rich Cream Cleanser gently cleanses, purifies and removes all traces of makeup whilst creating a creamy lather on the skin which helps to preserve the skin's moisture balance. Your skin will instantly feel velvety soft, refreshed and perfectly polished.
The unique formula is enriched with mineral water to prevent dehydration and features unique non-stripping and non-drying ingredients. These specially cleanse the skin without depriving your skin of its natural goodness and keep moisture locked in.
A natural blend of ingredients includes jojoba, avocado and grape seed oil are nourishing and soothing and will make your skin feel like velvet.
The Bobbi Brown Hydrating Rich Cream Cleanser is a facial in a bottle – rich, luxurious and refreshingly purifying.
For more information visit www.bobbibrown.co.uk.