Hand cream is a bit boring. It's that 'extra' in the gift set. The forgotten tube at the bottom of your handbag. The free sample that you give to your mum. Until you get dry hands, which make you feel like you're wearing really tight gloves, and then hand cream becomes very interesting indeed.
To me, it's about finding a cream that cuts out the dryness without leaving a greasy film. I also need one that smells lovely, and comes in packaging that looks good by the bathroom sink – but also works as something I can throw in a bag when I'm travelling. Does such a thing exist? It does indeed, and here are my favourites.
I really rate Clinique's Deep Comfort Hand and Cuticle Cream (£17). As deliciously custardy in colour as their iconic Dramatically Different moisturiser, this sinks in without leaving a 'glaze' on your laptop keys and seems to prevent hang-nails too.
I was genuinely surprised at the bargainous price of this – Di Palomo Wild Fig & Grape Hand & Nail Cream (£7). Again, it works on cuticles, which is a big bonus, and I love the Mediterraneany tube and appropriately autumnal fragrance.
Talking of fragrances, this is one of my all-time favourite whiffs ever: Connock London Kukui Oil Nourishing Hand Cream (£18.50). Not only does it make your hands disturbingly silky, you will be sniffing them all day like a total weirdo. Try the body lotion for the same divine scent all over.
Even more purse-friendly than the Di Palomo is M&S Spa Collection Ultra Smooth Intensive Hand & Nail Cream (£3). To me this is a perfect handbag product: it has that fresh, clean smell which is just want you want when you're out and about and it's absorbed in seconds. Spa-tastic.
And finally, Jurlique, the Australian organic brand who can rarely do any wrong in my book, have a divine solution to the whole issue of hands giving away your age. Why else does Madge sport gloves so much these days? She should be slapping on Jurlique Purely Age Defying Hand Treatment (£26.75) and maybe laying off the leotards while she's at it too.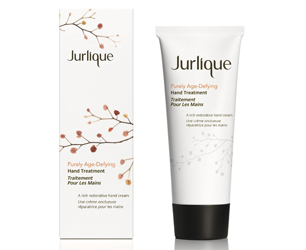 For more Best of Beauty roundups visit the StyleNest Beauty channel here.