A warm welcome and personal touches at this beautiful Bath hotel make for an unforgettable five-star experience
Bath has historically been known as the place to retreat to when in need of relaxation for hundreds of years, given that the city is famed for its natural hot springs and the notion of 'taking the waters' to cure one's stresses. After staying at The Gainsborough Bath Spa Hotel, I can attest that this tradition most definitely lives on.
Arrival
Situated in the centre of Bath directly opposite the Thermal Bath Spa, the hotel occupies two Grade II Listed buildings which previously housed a hospital in the 1800s. The building was redeveloped when The Gainsborough opened in 2015 and has been beautifully redesigned in an elegant and welcoming way. This welcoming vibe extended to my arrival at the hotel; the friendly team of staff were immediately on hand to greet me and made the experience feel personal from the offset. I was collected from Bath Spa train station by the concierge – though the hotel can be reached on foot from the station in under 10 minutes – and the hotel even offers a chauffeur service from London as well as Bristol International Airport. Impressively Bath is just a 90-minute train journey away from the capital, making this a perfect escape from the stresses of city life.
Spa
After a tour of the hotel followed by being shown to my room with enviable views of the city (plus champagne and chocolates waiting for me), I was keen to sample the famous waters and headed for the Spa Village which lies at the heart of The Gainsborough. The hotel has the privilege of being the only one in Bath with access to the naturally hot mineral waters and houses three pools of two different temperatures, which guests are encouraged to enjoy as part of the complimentary Bath House Circuit. What makes this experience extra special is the visit to the aromatherapy bar at the beginning, where a member of the team creates a customised aroma blend pouch for you dependant on how you want to feel at the end of your spa experience (needless to say I opted for a relaxation vibe with scents including lavender). After taking the cleansing circuit I enjoyed a 90-minute Ginger Renewal body treatment with lovely Head Therapist Kabir and left feeling refreshed and relaxed. The spa offers a variety of therapies, facials, massages and even aquatic body experiences with the focus being on personalised aromatherapy – utter bliss, basically.
Sleep
It is these little touches to make the experience so very personal that makes staying at The Gainsborough such a joy. This was never more evident than when I returned to my luxurious room after an evening dinner to find sprigs of lavender and a beautiful poem on my bed, along with products such as facial spritz and lip balm to soothe me to sleep. Not to mention the lamps were already lit and relaxing classical music was playing from the Roberts radio beside my bed, creating a soothing ambience that made me feel incredibly special. This only served to add to the decadent vibe of my room, which came complete with amenities such as HD television, heavenly Asprey toiletries and heated bathroom floors. Fittingly my sonnet by Lord Tennyson was about a princess and I definitely felt like one – and who doesn't want that?
Eat
Speaking of that evening's dinner, food in the classy The Gainsborough Restaurant was divine and again came with unique little additions such as an unexpected extra starter. Head chef Dan Moon and Michelin-starred consultant chef Johann Lafer use locally sourced produce and dishes are presented in the most beautiful fashion. I opted for a Chicken Liver Parfait followed by Pork Loin and could seriously eat my choice of dessert – Chocolate Ganache with peanut butter mousse and banana ice cream – again and again. There's also a six course tasting menu available, ideal for foodies to sample the restaurant's many delights. If you're in the mood for a cocktail or two, the very chic Gainsborough Bar is just across the corridor where the bartenders love to experiment and create a beverage catering to whatever you fancy. I chose the refreshing Gainsborough Margarita and didn't regret it.
Things to do
With this being my first time in Bath, concierge and staff were incredibly helpful in enabling me to get the most out of my visit and offered plenty of guidance, suggestions and maps when I set off after a lovely breakfast. The hotel is in an ideal location for exploring this stunning historic city and most attractions are within walking distance. My personal highlight was the Fashion Museum and Assembly Rooms; it seemed only right to feast my eyes on beguiling things after such a such a gorgeous stay at The Gainsborough, after all.
The Gainsborough Bath Spa has earned many accolades – including recently been named as one of Condé Nast Traveler's Best New Hotels In The World – and it's not hard to see why. Beautiful, welcoming, warm and relaxing with outstanding personalised service, the hotel really has set a high standard for wherever I may stay in the future. History sure wasn't wrong about Bath's powers of relaxation.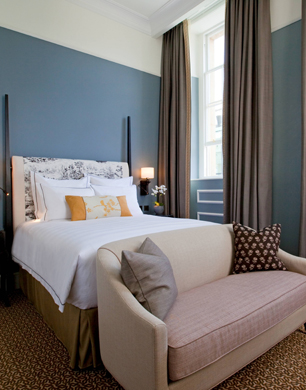 Nightly rates at The Gainsborough Bath Spa start from £285 on a room-only basis, or from £310 on a B&B basis.
The Gainsborough Bath Spa, Beau Street, Bath BA1 1QY, England