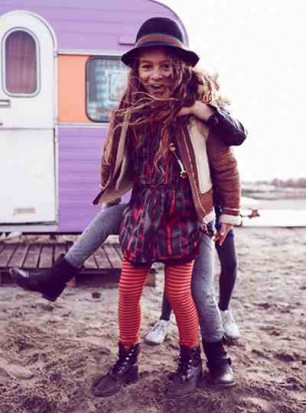 Scotch & Soda kids launch their first ever UK store in Harrods children's department on Wednesday 26th September.
Fans of  kids labels Scotch R'Belle and Scotch Shrunk rejoice, as the cult Dutch designer launches its first UK shop for children.
Scotch & Soda are renowned for their wearable, yet inspired aesthetic and from this spanned the equally well-crafted and grown-up childrenswear lines. Scotch Shrunk first appeared in SS 2008; literally shrinking men's sizes for a completely new take on kidswear. This was soon followed by the appearance of Scotch R'Belle for SS 2011.
The kidswear is the perfect option for parents who want their kids to look as stylish and relaxed as they do, as Scotch & Soda pride themselves on modelling kidswear on their mainline collections, meaning you can transform your little one into a mini me in no time at all.
Scotch R'Belle is a fantastic range for your little tomboy. Veering away from stereotypical princess dresses, frills and glitter, this collection offers many versatile selection of outerwear, denim and knitwear you will be wishing you could fit into yourself. The grey mohair cardigan with star lining is a trans seasonal piece that can be used for layering when winter sets in whilst the skinny fit biker pants which come in black, grey and red will bring out her inner rock chick.
Scotch Shrunk offers the most amazing array of boys denim that we have ever seen. Coming in all shapes and sizes, each pair of jeans oozes street style and wearability. We also love the 'Here Comes Trouble' tshirt . Kitsch, stylish and warm, what's not to love?
Scotch Kids unveils their UK store at Harrods on Wednesday 26th September. Be sure to check it out.
For more childrenswear round ups for boys, girls and babies visit our Best of Childrenswear page here.