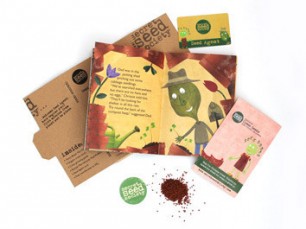 Be inspired to grow and cook with your little ones with The Secret Seed Society.
Forget the latest members club or pop-up speakeasy; this season the coolest secret society is celebrating all things seeds. Yep, growing your own and cooking them up has never been cooler.
The Secret Seed Society is an online community and store dedicated to teaching and encouraging parents to grow their own fruit, veg and herbs with their children. Not only does it teach kids (old and young) about where their food comes from and how, it also instills a much better attitude to food in them from a young age. And, more importantly it can be really fun.
To engage little ones in gardening The Secret Seed Society has enlisted the help of their charming veggie characters, Carla Carrot, Rudi Radish, Chrissie Cress and Mingo Mung Bean. These cute cartoons are the focal point of original short stories that can be purchased alongside seed packs. So, any aspiring gardeners, chefs or just mini food experts can learn all about growing their favourite vegetables whilst they grow them. The Story & Seed 4 Pack, £20 is the perfect gift for young growers and comes beautifully bundled up with retro airmail letters, charming illustration and of course the all important seeds. A range of other gifts from kids gardening tools to organic seed packs are also available to get your little ones sprouting green fingers as early as possible.
The Secret Seed Society site also offers parents and youngsters all the information they need to become expert seed growers. From freaky food facts for little ones to gardening tips for mum and dad, the site manages to find the balance between entertaining and educational.
To find out more about The Secret Seed Society or to start shopping for your seeds visit secretseedsociety.com
Get your little ones excited about gardening with our roundup of the best gardening fun for kids.