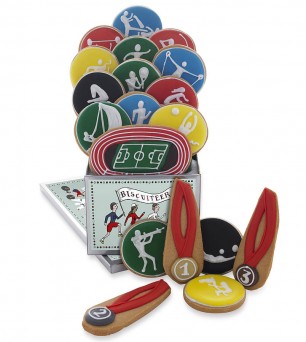 Luxury biscuit makers, Biscuiteers celerbrate the London Olympics with limited edition biscuit based treats.
Biscuits are the new chocolate it seems, and taking first place in the tea dunking stakes has to be Biscuiteers. Known for their perfectly iced, sweet treats, London based food brand Biscuiteers have become the coolest (and tastiest) way to say 'I Love You' or 'Get Well Soon', thanks to their gorgeous themed and personalised biscuits.
Joining in the sporting enthusiasm this summer, Bicuiteers have created the Games Collection comprising athletic inspired biscuits.
Heading up the collection is the beautifully packaged Games Tin. Packed full of biscuity treats hand-iced with javelin throwers, gymnasts and medals; they're the perfect way to celebrate the forthcoming games from the comfort of your own home. The tin is covered in retro sporting illustrations and can be treasured long after the contents have been devoured – which we assure you won't be long.
The confectionary brand have also launched a Sports Cake decorated with athletes, a running track and a miniature football pitch. If you're hosting an Olympics party, put it pride of place on your party table and really impress your guests.
And for the kids, the Sporty Gingers give Biscuiteer's classic gingerbread men an Olympic twist with union jack swimming trunks and a winning gold medal round their neck. Cute and delicious – they're almost too good to eat. And finally, a keepsake Games tea towel has also been designed by Biscuiteers – sure to win you a gold medal for doing the dishes.
Whilst they may not be part of an athlete's diet, they are most certainly delicious and a sweet way to celebrate London 2012 this summer.
Biscuiteers are available to order online at biscuiteers.com. Prices start form £6 for the Sporty Gingers, up to £65 for the Sports Cake.
For more gift ideas for your friends, family and even yourself, visit our gift guide here.