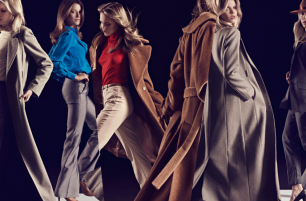 The one-stop-shop celebrates 40 years in fashion with a new collection and website re-launch.
In 1971 David Reiss founded what was to become one of Britain's most successful and loved labels.. 40 years on and Reiss is doing better than ever with a womenswear, menswear and 1971 diffusion line. This Autumn the brand famed for its sharp tailoring and luxe casuals celebrates four decades of success with The 40th Anniversary Editions Collection and a refreshed website offering everything from trend spotting to styling advice.
The 40th Anniversary Collections is heavily influenced by AW's must-have 70s trend. Hero pieces include, a brown three-quarter length brown leather mac, a sheepskin evening jacket and a metal clutch bag wrapped in a 70s take on art-deco print. There are certainly some statement pieces here and they would have probably looked just as at home when the label launched in 1971 as they do now – testament to Reiss's power of creating timeless and chic designs.  Some more wearable pieces like chunky cable knit and a gorgeously soft snakeskin-effect tote are also available if you want to invest in something a little more 'everyday'.
The collection is in store now, with new items being dropped in sporadically. But keep in mind; with the hugely successful year Reiss has had (no thanks to a certain Duchess) the collection is sure to be a sell out soon.
The revamped site looks sleek and chic, reflecting the brands design ethos perfectly. 'Reiss Spy' the brand's lifestyle portal keeps fans up to date with the latest Reiss blog posts and Twitter feeds, whilst the bi-annual magazine, Reiss Journal offers fans a chance to lust after the latest collections, campaigns and read fashion editorials.
Reiss may be celebrating four decades in fashion this year but it continues to offer its customers something modern and new. It must be true what they say, life really does begin at 40.
To shop the collection visit www.reissonline.com