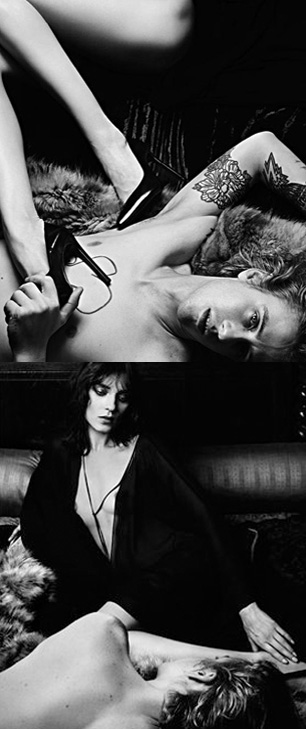 The iconic fashion house is set to launch a debut collection under the creative control of designer Hedi Slimane.
The revered French fashion house, Yves Saint Laurent is taking a different direction this season, in more ways than one.
Firstly, the luxury brand has decided to change their iconic name from Yves Saint Laurent to simply, Saint Laurent. After over half a century at the forefront of high-end fashion, it's a controversial decision made by the brand and one that is sure to ruffle a few fashion feathers.
French fashion designer, Hedi Slimane was earlier this year announced as the creative director at Saint Laurent taking over from Stefano Pilati. Sure to shake things up for the brand, it's a brave move for such an established label.
Slimane previously saw success as creative director at Dior Homme, bringing a rock 'n' roll aesthetic to the label and citing musician Pete Doherty, amongst others, as his muse. It'll be interesting to see how Slimane's artistic attitude fares at Saint Laurent when he shows his first collection at Paris Fashion Week on 1 October.
For now though, fashion fans can catch a glimmer of what's to come as Saint Laurent have released the first campaign to come from Hedi Slimane.
The campaign showcases tattoo clad, bare-chested rocker Christopher Owens from San Fran indie band, Girls, reclining amongst elegant 70s styled models. Season after season, YSL as a brand has always nodded to it's iconic 70s aesthetic, be it with a revamped Le Smoking jacket, thigh-splitting gown or sky-high heels; and this is certainly played on in Slimane's first shoot.
The campaign has got the fashion world waiting with baited breath and we can't wait to see the collection brought to life on the catwalk.
Hedi Slimane's debut collection for Saint Laurent will be shown at Paris Fashion Week on 1 October 2012.
For more Autumn Winter 12 fashion and the latest trends, visit our Get the Look page here.