I'm not proud. My standards, hygiene wise, have plummeted since I've had kids. But there are still times when I can't help feeling a bit icky if I've not really washed my mitts properly.
You know how it is: the public toilets at that farm park that smelled like goat. The time when you were chopping chicken and then had to wipe the toddler's nose as a matter of urgency. We've all been there. So here are my current top five germ busters that help you do the clean hand thing in style…
First up are Method handwashes. I love these. My favourites are the 'Designed For Good' in Mimosa Sun and Botanical Garden (£2.50 each), a brand new duo that are free from any animal products and also safe for cleaning up after your pets. Although the only small muddy creatures that pass through my kitchen are human, that sounds good to me.
Out and about, I keep a hand sanitiser in every bag. My smart handbag (i.e. not stained with Petit Filous) contains Jurlique's Moisturising Hand Sanitiser (£5 for the small one), which is great when you encounter a pub loo that doesn't look like it's been checked hourly, or indeed that day. It smells gorgeously herbal, doesn't leave your hands tight and looks posh too.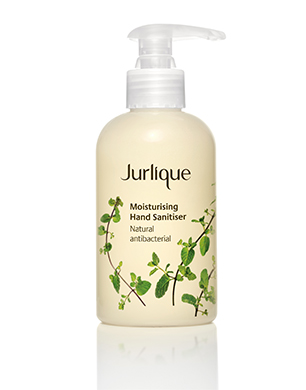 In my work/kids handbag (the one I use the most) I keep Dr Bronner's new Organic Lavender Hand Sanitizing Spray (£2.99), which works a treat on both the little ones and me. No harsh chemicals – just a blend of organic ethanol, glycerin, water and organic lavender oil. It spritzes on with a lovely lavender waft and none of that horrible drying hand gel nonsense.
For the hardcore baby changing bag (which I've been able to partially retire, but it still serves on day trips for changes of clothes and wipes), I have Aquaint Sanitising Water from Vital Baby (£2.49). This is great because you can use it on your hands, but also other surfaces like mucky high chairs in cafes or changing tables. Invaluable.
And finally, one to watch out for when it launches on May 1st – Lanolips Antibacterial Hand Cream (£8.99). Containing lanolin and aloe vera, it forms an antibacterial 'liquid glove' that instantly kills 99.9% of germs, while moisturising rather than drying out. It smells fresh and doesn't leave a greasy film either. A kitchen sink-side essential.