Exclusive Offer On Holidays In South of France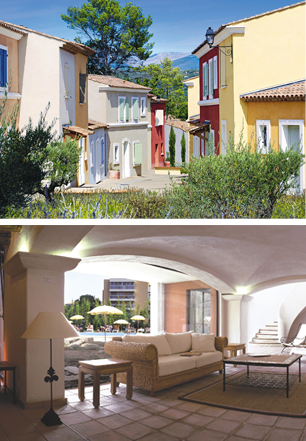 StyleNest have joined forces with travel brand, Lagrange to offer readers an exclusive 30% off offer, on holidays in the South of France this September.
Lagrange have teamed up with StyleNest this September to ensure your summer keeps on going. Book a last minute holiday for departures between 5 – 28 September 2013, in holiday properties situated in both Sainte-Maxime and Fayence, South of France and you will save 30%.
In Sainte-Maxime you'll find the Lagrange's Port Marine apartments. Located just 150m from the sprawling coast, the resort offers endless activities and is priced at an affordable price point – perfect if you've got a big group to accommodate. Whether you're after an idyllic sunbathing spot, some delicious fine seafood or some action packed watersports, you'll find it here. The apartments are self-catering, so make the most of the downtime and the tasty fresh product and local wines.
If you're after something more luxe, this offer also applies to Lagrange's Domainde de Fayence holidays houses and villas too Nestled within the private, pedestrianised complex and split into two sites; La Bastide des Claux and Les Hameaux de la Calade, it's ideal for families, couples or groups of friends. Designed in the style of a traditional picturesque Provencal village, and each villa having its own pool, these chic properties could not be more South of France.
To claim you exclusive 30% off simple enter the following discount code when booking online or quote it whilst booking over the telephone.
DISCOUT CODE: STYLE
Offer is available on the following properties and dates:
Fayence, Le Domaine de Fayence (La Bastide des Claux) – 2 bedroom split-level holiday house, M46X
07.09.13 – 14.09.13: NOW for £366 WAS £523/house/week (saving £157)
14.09.13 – 21.09.13: NOW £284 WAS £405/house/week (saving £121)
21.09.13 – 28.09.13: NOW £265 WAS £378/house/week (saving £113)
Please note, these prices do not include a £30 booking fee per unit per week
Sainte-Maxime, Port Marine – 2 bedroom apartment, 36
07.09.13 – 14.09.13: NOW £467 WAS £667/apartment/week (saving £200)
14.09.13 – 21.09.13: NOW £375 WAS £536/apartment/week (saving £161)
21.09.13 – 28.09.13: NOW £290 WAS £414/apartment/week (saving £124)
Please note, these prices do not include a £30 booking fee per unit per week
Terms & Conditions:
This offer is subject to availability and is subject to Lagrange Holidays' general terms and conditions.  All prices quoted are exclusive of the £30 booking fee, on which the discount does not apply.  Bookings can be made via www.lagrange-holidays.co.uk or by phone 020 7371 6111, Monday to Friday, 9am to 6pm, Saturday 10am to 3pm.  To redeem the offer, enter offer code STYLE when prompted online or mention STYLE when booking over the phone.  This offer cannot be applied retroactively and is not valid with any other offers.  Offer is valid on bookings from 05/09/2013 to 28/09/2013 for the specified resorts, residences, accommodation types and departure dates only. Prices do not include a £30 booking fee per unit of accommodation per week.
For more travel news, reviews and inspiration head over to StyleNest's Travel channel here.